Oce PlotWave 345 - B & W Printer - Colour Scanner- MFP Wide Format System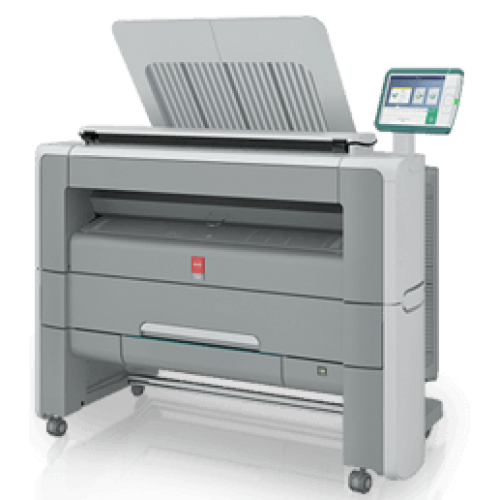 Be more productive at work
The Océ PlotWave 345 delivers instant productivity wherever you are working and whatever kind of document you need, so that you can make the most of your day. Using a WiFi router you can use your smart phone or computer to get your technical files from the cloud or send a print request to your printer using Océ Publisher Mobile, ideal for when you're out on site.
Thanks to our award-winning Océ Radiant Fusing technology you can get started quickly, with sleep to print in just 40 seconds, which saves you an hour a day and cuts energy costs in half, compared to conventional printers. For added productivity you can scan while printing and copy while printing.
Get great results, simply
The Océ ClearConnect 10-inch touch screen works like a tablet, so there's no learning curve. Plots are collated and stacked at an ergonomic height on the Top Delivery Tray, which stacks up to 50 sheets. The online folder option saves time too by generating quality one-fold documents automatically.
Peace of mind with secure, durable printing
The entire award-winning Océ PlotWave series is made for the professional CAD environment. It produces high quality black and white documents that look consistently great and are resilient enough to stand up to use off and on site thanks to our water-fast prints and next generation print quality. Enjoy colour scanning too, with fewer wrinkles.
Cost-efficiency is built-in
We keep your operational costs low with a hard working construction that outlasts many comparable systems, along with features such as energy efficiency and Océ Radiant Fusing.
Robust security protects confidential information
We include the latest FIPS 140-2 security features, supported by an embedded Windows 8 platform and POWERsync controller to protect private information. You can also protect print data using DLAP login or smart card security. The POWERsync controller allows the device to integrate with other hardware and software, such as uniFLOW, without worrying about security and operational issues.
Be kinder to the environment
The Océ PlotWave 345 is both people and planet friendly, with low level ozone, noise and heat emissions compared to conventional systems. It is fully compliant with the latest Energy Star 2 regulations. Finally, the closed toner system prevents users from spilling and inhaling toner.
TECHNOLOGY
Product description
Black & white all-in-one wide format print/copy/scan system with color scanner
Imaging technology
Electrophotography (LED), organic photoconductor (OPC), clean closed toner system, Océ Radiant Fusing technology
Toner/ Ink type
Océ black toner: 0.4 kg per bottle
Print speed
Black & white: 4 A1-sizes per minute, 2 A0 sizes per minute
Print resolution
600 x 1200 dpi
GENERAL
Configuration
Printer or multifunctional 1 or 2 rolls
Size main engine (WxDxH)
Compact design: 1527 x 803 x 1495 mm (including top delivery tray)
Weight main engine
240 kg
Certifications
CE, TUV GS, CETECOM, C-UL-US, Energy Star 2.0, FEMP, Rohs, CCC, VCCC
MEDIA HANDLING
Paper rolls
1 or 2 rolls
Paper cutting
Cutters included in the drawer for fast and easy media switching
Maximum paper capacity
1 roll: 183 m2 2roll: 365 m2
Paper weight
60 - 110 g/m2
Roll width
297 - 914 mm
Output delivery
Integrated top delivery tray
Media type
Paper: Plain paper, Transparencies, Translucent, Recycled paper, Engineering Bond, Engineering Vellum, Colored paper, Top Label Paper FSC, Red Label Paper PEFC, Black Label Paper PEFc, Green Label FSC, RecycledWhiteZero FSC, Transparent Paper, Transparent Paper FSC, Polyester film, Polyester film antistatic, Contrast Film, Clear Polyester Film, Double Matte Polyester Film, White Opaque Polyester Film, Translucent Engineering Bond, Engineering Bond, Recycled Engineering Bond, Engineering Vellum, Color Top, Recycled paper, Plain Paper recycled, Transparent
USER INTERFACE
Description
Océ ClearConnect multi-touch user interface
Size (WxDxH)
300 x 220 x 40 mm. Touch screen: 10.4"
Resolution
800 x 600 pixels
Number of colors
16.2 Million
Technology
Projective capacitive touch
Operation
3 hard buttons: [Wake-up], [Stop, interupt, abort], [Home].
Multi-touch functions: pinch, swipe, flick, zoom, pan
Features
View optimization: Tilt (-4 to +45 degrees) and turn (-45 to +180 degrees). Status light (red, orange, green). USB interface with indication light
CONTROLLER
Description
High performance Océ POWERsync controller with Windows 8 Embedded, 64 bits
Processor
Dual-Core G1620 @ 2.70GHz
Memory
4 GB DDR3 (standard)
Video
Intel HD Graphics, 1GHz
Hard disk
500 GB, 7200rpm (standard)
Interface
Ethernet 100 Mbits/s, 1 Gbit/s
TCP/IP: DHCP,IPv4, IPv6, HTTPS
Discovery: APIPA, WS-Discovery, SNMP
Page description language
TIFF, JPEG, HPGL, HPGL2, DWF, C4, Calcomp 906/907/951, CALS, NIRS, NIFF, PS/PDF (optional)
Security
E-shredding, IPSec, IP filtering/Access Control Lists, HTTPS, audit logging, network protocol enable/disable, LDAP integration, Active Directory Integration (optional), User authentication on local ClearConnect user panel (LDAP/Active Directory credentials, smart card) for scan/copy/print. Configure HTTPS Certificates. Removable hard disk option, Optional FIPS 140-2 Certified Trusted Platform Module (TPM) and BitLocker based hard disk encryption, hard disk wipe (Only with Disk Encryption), Configurable CA certificate, Disable Network Ports and Protocols, Security Event Logging, Optional Single Sign-on (on device).
Cloud support
Unlimited user and or Administrator authenticated cloud support via WebDav and/or third party provider: e.g. Microsoft® SharePoint®, Dropbox®, Box.com, box.net, Google® Drive®, Microsoft® OneDrive®, Amazon Cloud Drive®, Cloudsafe®, MyDisk®, PlanWell Collaborate. The cloud user authentication can either be preconfigured by the administrator or done by the user at the time of accessing the specific cloud
Transformations
Scaling; Scaling (scale-to-fit page, reduce when image too large to avoid clipping or to custom factor, scale page size to standard size) , Rotation , Shift (automatic or user defined), Adding/removing trailing/leading edge, Mirror, Black intensity in poster mode, Print optimization (standard, lines/text, poster). Color Highlight and Dark Original. Area to erase (area of interest)
SCANNER
Description
Contact Image Sensor (CIS) Color scanner with Océ Image Logic technology
Scan resolution
600 x 600 dpi
Scan speed
14,6 m/min Black & white scanning;
9.7 m/min Copying;
4.8 m/min Color scanning
Scan format
TIFF, PDF, PDF/A, JPEG, CALS, multi-page PDF, multi-page PDF/A and multi-page TIFF
Scan templates
Virtual unlimited number of scan templates to standardize common scan settings and destinations
Scan destination
Local USB flash drive, FTP, SMB, Smart In box on Controller, Optional Local Home folder( LDAP), mobile device via Océ Mobile WebTools, WebDav Clouds, PlanWell Collaborate.
Original width
208 - 914 mm
Original length
208 mm - 16 m
Original thickness
Maximum 0.8 mm (non-rigid documents)
Zoom
Scale to standard format. Custom: 10 - 1000 %
Preset modes
Blueprint, Coloured original, Dark original, Folded lines/text, Lines/text standard, Lines/text draft, Photo, Map, Artwork
Size scanner (WxDxH)
1097 x 308 x 140 mm
Weight scanner
25 kg
ENVIRONMENTAL
Sound power level
Quiet mode (Standby and sleep): less than 25 dB
Print mode: less than 55 dB
Ozone concentration
<0.001 mg/m3, < 0.000473 PPM (0,05% of permitted limit value)
Heat emission
Ready: 72 W, Active:1.6 kW
Power requirements
90 - 240 V, 50/60Hz
Power consumption
Sleep mode: 1 W
ready mode: 88 W
Active mode: 1.5 KW
Recyclability hardware
Made of steel or highly recyclable plastics: up to 95% of the engine can either be up cycled or recycled. Remaining 5% are non toxic waste.
Recyclability toner container
Bottles made of highly recyclable HDPE (High Density Polyethylene)
WORKFLOW
Description
Concurrent print, copy and scan of single documents or sets
Printer drivers
Océ Wide format Printer Driver 2 for Microsoft® Windows®, Océ PostScript® 3 driver, Océ Mobile WebTools for iOS®, Android® and BlackBerry®, Océ Publisher Mobile for IOS® and Android®, Océ Publisher Express, Océ Publisher Select 2.
Job management
Personalized Smart Inbox with history, Manage queue, Océ Express WebTools, Secure controler access, remote shutdown and restart
Accounting
Océ Account Centre (Optional)
OPTIONS
Hardware
Additional 2nd roll option, Océ Scanner Express placed on top of the printer, removable hard disk, TPM module, Estefold 2400 series, Océ Delivery Tray to increase delivery capacity up to 200 pages.
Software
Océ View Station, Adobe® PostScript ®3/PDF file interpreter, Océ Reprodesk, Océ Account Center.
Filters
Application
Technical Document Scan/Copy/Print
Printer Size
A0