HP Designjet A1 T830 MFP Printer, Scanner & Copier 24" 610mm CAD & General Purpose F9A28A
HP Designjet A1 T830 MFP F9A28A Printer Scanner Copier
Compact, economical, easy to use, ideal for small to medium work groups.


Key Features:
All in one system
Small Footprint
WiFi
Economical
Single Roll
4 Colours
Print Speed: A1 drawing 26 seconds
Paper rolls to fit the HP Designjet T830 A1 Printer Click Here
Including paper for CAD Printing, Presentations, Tracing, Posters and Art Prints.
The most compact multifunction printer[1] with a sleek integrated design is the ideal fit for the office and construction job site, and simplifies printing with HP Click printing software. Print from a smartphone or tablet with HP Mobile Printing.[2]
Print documents fast—up to 26 seconds for A1/D-size prints.[2]
Enjoy easy installation in the office, construction job site with the most compact large-format MFP.[1]
Easily print project sets and PDF documents with HP Click printing software.
Fit your print volume – choose from a variety of 40/130/300-ml colour and 69/300-ml black HP ink cartridges.
This reinforced, all-in-one printer with smart scanning handles all your document management from the office to the construction site. Get HP DesignJet print quality in half-size documents with the A4/A3 input tray. Achieve +/-0.1% line accuracy.[3]
Get HP DesignJet quality also in small-format sizes—print half-size documents with 50-sheet A4/A3 input tray.
Achieve precise lines up to 0.1% line accuracy[3], up to 2400 dpi, and high contrast – HP Bright Office Inks.
Smart scanning technology protects originals from damage when scanning and obtains precise colours.
Reinforced design and strong legs for easy transport and use at the job site.
Enhance communication with peers/partners. With an intuitive single touchscreen, you can scan, copy, and share drawings immediately. Scan/email from the front panel. Use HP Smart app[4] to email contacts or post to cloud from your smartphone, tablet.
Use built-in scanner to copy and distribute sketches and hand-annotated drawings to peers/partners right away.
Share drawings immediately – scan/email from front panel, use HP Smart app[4] to email contacts, post to cloud.
Share drawings immediately—scan/email from front panel, use HP Smart app[5] to email contacts, post to cloud.
No learning curve—with the intuitive design of a single touchscreen, you can scan, copy, and share instantly.
[1] The HP DesignJet T830 60,96 cm and 91,4 cm Multifunction Printers are the most compact large-format devices performing print/scan/copy functions based on H x W x L specifications published as of May, 2017.
[2] The HP DesignJet T830 24-in Printer prints documents up to 25% faster compared to the HP DesignJet T520 24-inch Printer. Mechanical printing time, printed in Fast mode with Economode on, using HP Bright White Inkjet Paper (bond) and Original HP Bright Office Inks.
[3] ±0.1% of the specified vector length or ±0.2 mm (whichever greater) at 23° C, 50-60% relative humidity, on A1/D HP printing material in Best mode with HP Heavyweight Coated roll feed and Original HP Bright Office Inks.
[4] ±0.1% of the specified vector length or ±0.2 mm (whichever greater) at 23° C (73° F), 50-60% relative humidity, on A1/D HP printing material in Best mode with HP Heavyweight Coated roll feed and Original HP Bright Office Inks.
[5] The HP Smart app is available for Apple® iPad, iPhone, and iPod Touch running iOS v7.0 or later and for Android™ mobile devices running Android™ v4.4 or later. The HP Smart app is available for free from the Apple® App Store for Apple® mobile devices and from the Google Play Store for Android™ mobile devices.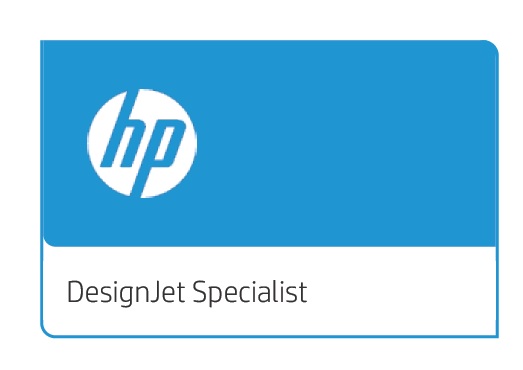 Prizma Graphics - HP Designjet Specialist - We offer independent advice and support to ensure you make the right choice.
Call 01296 393700 for further help.

HP DesignJet T830 24-in (610-mm) Multifunction Printer
Model size
610 mm
Functions
Print, copy, scan
Speed specifications
Print time line drawing (economode, A1 plain paper)
26 sec/page
Print speed line drawing (economode, A1 plain paper)
81 A1 prints per hour[1]
Linear scan speed
Up to 3.81 cm/sec (colour, 200 dpi); Up to 11.43 cm/sec (greyscale, 200 dpi)
Memory specifications
Memory
1 GB
Internal Storage
None
Technical specifications
Print quality (best)
Color: Up to 2400 x 1200 optimised dpi
Print technology
HP Thermal Inkjet
Number of print cartridges
4 (cyan, magenta, yellow, matte black)
Ink types
Dye-based (C, M, Y)
pigment-based (mK)
Dynamic security
Dynamic security enabled printer. Only intended to be used with cartridges using an HP original chip. Cartridges using a non-HP chip may not work, and those that work today may not work in the future.
http://www.hp.com/go/learnaboutsupplies
Non-printable area (cut-sheet)
5 x 5 x 5 x 5 mm
Guaranteed minimum line width
0.07 mm (ISO/IEC 13660:2001(E))[3]
Line accuracy
±0.1%[2]
Maximum optical density (black)
8 L* min/2.10 D
Scan resolution, optical
Up to 600 dpi
Enhanced scanning resolution
600 dpi
Scanner type
Sheetfed, CIS (Contact Image Sensor)
Scan size, maximum
610 mm x 2.77 m
Scan size, minimum
203 x 127 mm
Copy reduce / enlarge settings
50 to 400%
Copies, maximum
Up to 99 copies
Bit depth
24-bit/8-bit
Paper handling
Finished output handling
Sheet feed, roll feed, input tray, media bin, automatic cutter
Media types
Bond and coated paper (bond, coated, heavyweight coated, recycled, plain, bright white), technical paper (natural tracing, vellum), film (clear, matte), photographic paper (satin, gloss, semigloss, premium, polypropylene), self-adhesive (adhesive, polypropylene)
Media weights, recommended
60 to 280 g/m² (roll/manual feed); 60 to 220 g/m² (input tray)
Media sizes standard (metric rolls)
210 to 610-mm wide sheets
279 to 610-mm rolls
Media sizes, custom
Input tray: 210 x 279 to 330 x 482 mm
manual feed: 330 x 482 to 610 x 1897 mm
roll: 279 to 610 mm
Roll external diameter
100 mm
Media thickness
Up to 11.8 mil
Connectivity
HP ePrint capability
Yes
Printing path
Windows and Mac printer drivers, Apple AirPrint, HP Print Service Plugin for Android, HP Print for Chrome app for Chrome OS
Connectivity, standard
Gigabit Ethernet (1000Base-T)
Wi-Fi 802.11b/g/n
Wi-Fi Direct
Print languages
TIFF, JPEG, CALS G4, HP-GL/2, HP-RTL, URF
Power and operating requirements
Power consumption
35 watts (printing), 3.5 watts (sleep), 0.2 watts (standby)
Operating temperature range
5 to 40ºC
Operating humidity range
20 to 80% RH
Dimensions and weight
Dimensions (W x D x H)
1098 x 629 x 1155 mm
Weight
51 kg
Filters
Application
CAD Colour Scan/Copy/Print
Hard Drive
No
Ink Compatibility
Dye - C,M,Y Pigment - Black
Max Paper/Media Weight
280gsm
Memory
1 Gb
No. of Printer Inks
4 Ink System
Print Speed
A1 Line Drawing 28 Sec
Printer Options
WiFi
Printer Size
A1
Roll Feed
Yes
Scanner
Yes - Colour Scan File Format - JPEG, PDF, TIFF
Scanner Resolution
600 dpi
Sheet Feed
Yes
Wireless
Yes
HP DesignJet T830 24-in MFP
Printhead
Ink cartridges
Printer stand
Spindle
Quick reference guide
Setup poster
Power cord
Refeed preventers
Software included
HP Click
HP DesignJet Utility for Mac and Windows
For CAD monochrome and line colour technical drawings, an uncoated paper is all you need to produce high quality prints with the HP T830 plotter. Our PCR90 Uncoated Inkjet Plotter Paper is our most popular paper, being a heavier 90gsm weight and a high performing and affordable option. Importantly, this is a consistent paper for consistently high quality results that can cope with light solid fill as well as line colour output.
However, this HP T830 printer will also allow you to create full colour presentations and posters. For high quality results a coated paper is a must and for this purpose we recommend our CJSC100 Coated Inkjet Plotter Paper 100gsm or our PHR120 Coated Inkjet Plotter Paper 120gsm. Both of these papers have a smooth, white surface that can cope with the heavier ink loads required for presentations with vivid colours and superb contrast, all with the fast drying time necessary for pristine results.
But that's not all this printer can achieve. Upgrade your paper to our Matt Coated Inkjet Poster Paper 165gsm and 180gsm or Satin Photo Paper in, for example, a 190gsm weight and the HP T830 will allow you to produce your own in house posters within the spectrum of the 4 colour gamut. Both our Coated Poster Papers and Satin Photo Paper are ideal for maps, photos and charts, with a microporous coating that enables the ink to dry instantly with fantastic colour contrast for sharp, brilliant images.
Our opinion here at Prizma Graphics is that the HP DesignJet T830 MFP is the best compact A1 and A0 wide format printer scanner for the small to medium-sized workgroup to have become available to date.
A compact, easy to use, robust and standalone multi-function printer scanner with a media bin for catching your prints as they are automatically cut, handy for unattended printing. The scanner is mounted on top of the printer which maintains a small footprint.
Ideal for design studios and architectural practices as well as constructional engineering and building companies that require a versatile printer and scanner with the option to produce presentation prints and in-house posters and copy originals with a maximum thickness of 0.8 mm.
A fully networked printer scanner with Wi-Fi connectivity, so you can place it anywhere within reach of your Wi-Fi signal. Plus, HP Mobile Printing for remote printing direct from your Apple or Android Smartphone or Tablet.
Images can be scanned to a PC on your network or to a memory stick using the USB drive, useful for taking your images off-site. In addition, images can be scanned for archiving or emailing, copied in monochrome or colour and resized.
Faster print speeds than the HP T520, print an A1 CAD drawing in 25 seconds, 82 A1 prints per hour.
Flexible roll size capacity from 297mm to 914mm plus a sheet feed tray for A3 and A4 cut sheets.
Flexible ink cartridge capacity from 40ml to 300ml to allow you to select the best cartridge to suit your print volumes.
HP DesignJet Rugged Case available to protect against water, dust and damage while transporting on location. The large rugged wheels provide stability and traction. Easy to open and close case when you are using the printer with the case on.
Two year warranty as standard providing additional piece of mind.
Standard delivery
Which takes the form of pallet delivery to a ground-floor entrance, using a tail-lift vehicle. As this is a one-man delivery service, assistance may be required for unloading. The printer will also not be left at your site in the absence of a signature, so you will need to be available at the time of delivery. The unpacking of the printer, together with installation and connection to the network, are all to be carried out by the customer.

Full delivery and installation
Whereby a checklist survey form is completed prior to the printer being delivered and installed. Delivery is performed by a two-man team to a ground-floor location, and you also won't need to worry about doing your own unpacking, installation, ink loading, testing, or connecting the printer to the network. Our team will also load the printer drivers onto one PC, and provide basic training. All packaging will be removed from the printer for you, including the pallet.

For installations on any floor other than the ground floor, and/or help with complex network requirements, please contact us to discuss your needs in greater detail. 01296 393799 - Email: sales@prizmagraphics.co.uk