HP Designjet Z3200ps A0 44" Photo Printer Q6721B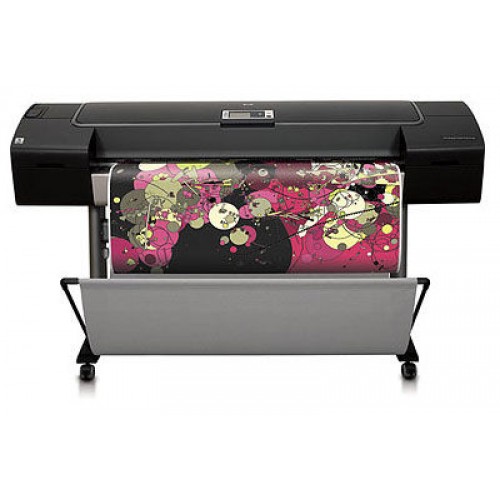 Wide color gamut and outstanding blackand-white
• 12 Original HP Photo Inks deliver gallery-quality black-and-white and
color prints lasting up to 200 years2
.
• Create exceptional black-and-white prints—an HP Quad-black ink
set delivers smooth transitions, neutral grays.
• Get superior gloss uniformity and minimize bronzing on most glossy
photo papers with HP Gloss Enhancer3
.
• Achieve an expanded color gamut with 96% PANTONE® coverage4
enabled by HP chromatic red ink.
Easy color calibration and profiling
• Generate custom ICC profiles and achieve color accuracy, consistency
with the embedded spectrophotometer5
.
• See consistent print-to-print color regardless of fluctuating
environmental conditions with HP technologies.
• Simplify your workflow— easily access, create, and share paper
presets using the enhanced HP Color Center.
• Get color reliability with HP Professional PANTONE® color emulation
and Adobe Postscript®/PDF support6
.
Data sheet
HP Designjet Z3200
Photo Printer series
The most advanced 12-ink printer1
for gallery-quality prints
1 The 12-ink HP Designjet Z3200 Photo Printer is the most advanced printer compared with other
HP Z-series printers.
2 Display permanence rating for interior displays/away from direct sunlight, under glass by HP Image
Permanence Lab and/or by Wilhelm Imaging Research, Inc. on a range of HP media. For more
information, see globalBMG.com/hp/printpermanence.
3 Bronzing is minimized as an image-quality issue when HP Gloss Enhancer is used. HP Gloss Enhancer can
be used on photo paper, with the exception of matte-finish papers.
4 96% coverage of PANTONE MATCHING SYSTEM® and PANTONE® GOE systems, based on HP internal
testing (PANTONE® approval pending).
5 Embedded in this HP Designjet Printer is an i1 spectrophotometer from X-Rite. Close collaboration
between HP and X-Rite ensures a reliable solution that's been thoroughly tested to meet customer
demands for ease, quality, and dependability.
6 Pending PANTONE-licensed.
7 Based on internal HP testing, the HP Designjet Z3200 Photo Printer series utilizes at least 30% less ink
during routine maintenance operations versus select printers from other vendors.
8 Professional PANTONE* Emulation, remote management, queue management, nesting, job submission
and storage capabilities, and support for 16-bit TIFF and JPEG files are standard on
HP Designjet Z3200ps Photo printers only.
Speed specifications
Print time color image ISO N5 (best, metric A1 glossy paper):
12.4 min/page
Print time color image ISO N5 (normal metric A1 glossy paper):
7.2 min/page
Print time color image ISO N5 (draft, A1 coated paper):
2 min/page
Print time color image ISO N5 (normal metric A1 coated paper):
3.8 min/page
Memory, standard:

256 MB
Hard disk:
Standard, 80 GB
Technical specifications
Print quality (best)

Color: Up to 2400 x 1200 optimized dpi
Black: Up to 2400 x 1200 optimized dpi
Print technology:
HP Thermal Inkjet
Number of print cartridges:
12 (blue, green, magenta, red, yellow, grey, photo black, matte black, light cyan, light grey, light magenta, gloss enhancer)
Compatible ink types:
Pigment-based
Non-printable area (cut-sheet):
5 x 17 x 5 x 5 mm
Guaranteed minimum line width:
0.056 mm (ISO/IEC 13660:2001(E))
Line accuracy:
+/- 0.2% of the specified vector length or ±0.3 mm (whichever is greater) at 23° C, 50-60% relative humidity, on E/A0 printing material in Best or Normal mode with HP Matte Film roll feed
Color accuracy:
Median < 1.6 dE2000, 95% of colours < 2.8 dE2000
Color stability:
< 1 dE2000 in less than 5 minutes
Print repeatability:
Average < 0.5 dE2000, 95% of colours < 1.4 dE2000
Maximum optical density (black)
2.5 maximum black optical density (4 L* min) (with HP Premium Instant Dry Photo Gloss media with Original HP inks)
Paper handling
Finished output handling:

Sheet feed
roll feed
media bin
automatic cutter (cuts all media except canvas)
Media types:
Photographic, proofing, canvas and fine art printing material, self-adhesive, banner and sign, bond and coated, film, backlit
Media weights, recommended:
Up to 500 g/m²
Media sizes standard (metric rolls):
210 to 1118-mm wide sheets
279 to 1118-mm rolls
Media sizes, custom:
216 x 279 to 1118 x 1676 mm
Roll external diameter:
135 mm
Media thickness:
Up to 0.8 mm
Connectivity
HP ePrint capability:

No
Connectivity, standard:
Gigabit Ethernet (1000Base-T)
Hi-Speed USB 2.0 certified
EIO Jetdirect accessory slot
Print languages:
Adobe® PostScript® 3™, Adobe® PDF 1.6, TIFF, JPEG, HP PCL 3 GUI
Power and operating requirements
Power consumption:
200 watts maximum (active/printing); 0 watts (off)
Operating temperature range:
5 to 40° C
Operating humidity range:
20 to 80% RH
Dimensions and weight
Dimensions (W x D x H)

1770 x 690 x 1047 mm
Weight
86 kg
Filters
Application
Photo & Fine Art Printing
Printer Size
44"
HP Designjet Z3200 Photo Printer; spindle; printheads; introductory ink cartridges; Original HP media roll; printer stand; rear tray; 3-in core adapter; quick reference guide; setup poster; USB cable; power cord; HP Start-up kit including printer software
Software included:
Printer drivers
HP Printer Utility including HP Color Center