Canon ImagePROGRAF TA-20 24" A1 Compact 5 Colour Pigment Ink Cad & Poster Colour Inkjet Printer 3659C003AA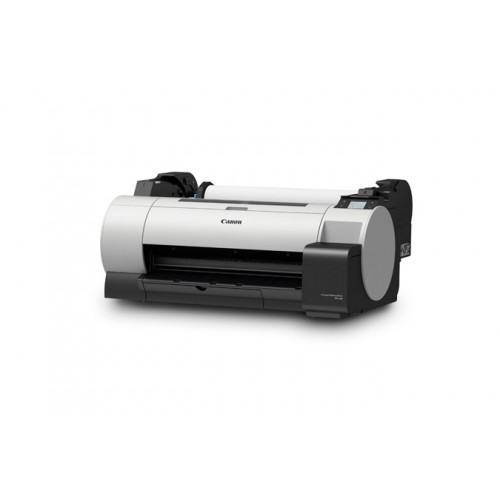 The Canon TA-20 A1 Inkjet Printer is perfect for fast printing of CAD and general poster work for any design office or studio. The new pigment inks will produce waterproof prints for indoor and outdoor use, particularly good for short term posters and banners. With its compact design, this printer with a flat rear will fit against a wall to save space and with 60% noise reduction makes it an ideal choice.
Paper rolls to fit the Canon TA-20 Printer Click Here
Including paper for CAD, Presentations, Posters, Tracing, Sewing Pattern Printing and Stickers and Labels.
Fast and flexible printing to maximise ink and media usage

Boost your productivity and minimise costs, with a 55ml ink tank designed for smaller print jobs. Innovative imaging technology increases precision and reduces media wastage, with three- and four-sided borderless printing on any roll width.
High performance

Advanced imaging technology delivers precise printing, with powerful colour from LUCIA TD ink.
Quiet and compact

Seamlessly fits into any office, with reduced operation noise and full front accessibility.
Accurate ink placement

Print sharp lines with an innovative Air Feeding System that keeps paper flat for high accuracy.
Product specifications

Borderless print on three and four sides, with custom-size rolls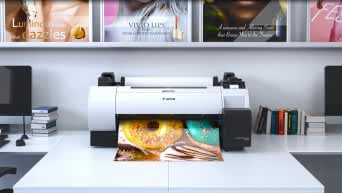 55ml ink tank - 275ml of ink supplied with TA-20 Printer

Low ink consumption for smaller print jobs

Space-saving design

Compact size and fully front accessible

Advanced technology

Air feeding system holds paper flat to increase ink accuracy

Reduced noise

Printer noise minimised for fewer distractions

3-inch colour touchscreen

For on-screen visibility and control

5-colour pigment ink

Canon LUCIA TD ink produces powerful colour expression

Enhanced security

Protect data with authentication protocols

Print Technology

Canon Bubblejet on Demand 6 colours integrated type
(6 chips per print head x 1 print head)
Print Resolution

2,400 x 1,200 dpi
Number of Nozzles

15,360 nozzles (MBK 5,120 nozzles, Other Colors 2,560 nozzles each)
Line Accuracy

±0.1% or less
User adjustments necessary. Printing environment and media must match those used for the adjustments.
CAD paper required: Plain paper, CAD tracing paper, coated paper, CAD translucent matte film only
Nozzle Pitch

1,200dpi (2 lines)
Ink Droplet Size

minimum 5 pl per colour
Ink Capacity

Sales Ink: 55ml
Bundled Starter Ink: 55ml (2 x MBK, 1 x BK,C,M,Y)
Ink Type

Pigment inks - Matte Black, Black, Cyan, Magenta, Yellow
OS Compatability

Microsoft Windows 32 Bit: Vista, 7, 8, 8.1, 10
Microsoft Windows 64 Bit: Windows 7, 8.1, 10,
Windows Server 2008R2, Windows Server
2012/2012R2, Windows Server 2016,
Windows Server 2019
Apple Macintosh: OS X10.10.5~ OS X 10.11,
macOS 10.12~macOS 10.15
Printer Languages

SG Raster (Swift Graphic Raster),HP-GL/2, HP RTL,
JPEG (Ver. JFIF1.02)
Standard Interfaces

USB B Port: Hi-Speed
Ethernet: IEEE 802.3 10base- T/IEEE 802.3u 100base-TX/IEEE 802.3ab 1000base-T/IEEE 802.3x Full Duplex
Wireless LAN: IEEE802.11n/IEEE802.11g/IEEE802.11b
* Please refer to user manual how to activate /deactivate the wireless LAN
Memory

Standard Memory
2 GB
Hard Drive

NO
Print Time for A1 Page Size

Media Type
CAD Drawing
Plain Paper (A1 page size)

Fast:
00:32 min
Standard:
00:56 min
Poster
Plain Paper (A1 size Portrait)

Fast:
00:30 min
Standard:
00:49 min
Heavy Coated Paper (A1 page size)
Fast:

00:58 min
Standard:
01:46 min
Media Handling
Media Feed and Output
Roll Paper: One Roll, Upper-loading, Front Output
Cut Sheet: Upper-loading, Front Output (Manual feed using media locking lever)
Media Width

Roll paper: 203.2 -610 mm
Cut sheet: 210 - 431.8 mm
Media Thickness

Roll/Cut: 0.07 - 0.8 mm
Minimum Printable Length

Roll paper: 203.2 mm
Cut sheet: 279.4 mm
Maximum Printable Length

Roll paper: 18 m
(Varies according to the OS and application)
Cut sheet: 594mm
Maximum Media Roll Diameter

150 mm or less
Media Core Size

Internal diameter of roll core: 2"/3"(option)
Margins Recommended area

Roll paper: Top: 20 mm, Bottom: 3 mm, Side: 3 mm
Cut sheet: Top: 20 mm, Bottom: 20 mm, Side: 3 mm
Margins Printable area

Roll paper: Top: 3 mm, Bottom: 3 mm, Side: 3 mm
Roll paper (borderless): Top: 20 mm, Bottom: 0 mm, Side: 0 mm
Cut sheet: Top: 3 mm, Bottom: 20 mm, Side: 3 mm
Media Feed Capacity

Manually switchable by user
Media Take-up roll unit

N/A
Borderless Printing Width (Roll Only)

(Printable) 203.2-610mm
*Roll paper only * No size restriction
Maximum number of delivered prints

Standard position: 1 sheet
Dimensions and Weight

Physical Dimensions WxDxH (mm) and Weight (Kg)
982 x 748 x 438 mm
37 kg (including Roll Holder Set, excluding ink and print head)
Packaged Dimensions WxDxH (mm) and Weight (Kg)

Printer (Main unit with pallet) 1147 x 874 x 542 mm
49 kg
Power and Operating Requirements

Power Supply
AC 100-240V (50-60Hz)
Power Consumption

Operation: 52 W or less
Sleep mode: 3.6W or less
Default setting for the time to enter the Sleep mode: approx. 5 mins
Power off: 0.3 W or less
Operating Environment

Temperature: 15~30oC, Humidity: 10~80% RH (no dew condensation)
Accoustic Noise (Power/Pressure)

Operation: 42 dB (A) (Plain paper, line drawing, standard mode)
Standby: 35 dB (A) or less
Operation: 5.8 Bels (Plain paper, line drawing, standard
mode) (Measured on ISO 7779 standard and described
based on ISO9296 standard)
Filters
Application
CAD Printing
No. of Printer Inks
6 Ink System
Printer Size
A1
Printer, 1 print head, Power Cable, 1 set of starter ink tanks - 6 x 55ml inks, Set up guide, Quick Guide, Safety/Standard Environment leaflet, User Software CD-ROM (Win),
EU Biocide Sheet, Eurasian Economic Union Sheet, Important Information Sheet
Software Included
imagePROGRAF TA- Unified Printer Driver,
Other software available as Download from Web.
Standard one year maufactureres warranty.
Three and five year warranty available.
The Canon TA-20 is a great, all-rounder wide format printer, providing the versatility for both technical CAD printing alongside the ability to produce water-resistant posters by virtue of the new 5 colour pigment based ink combined with water-resistant media. 10% faster than previous models, and a massive 60% quieter, with the capacity for continuous printing during ink changes are also long desired features for a busy and productive design office. And if short on office space, the flat rear, space saving design allows you to position this printer flush to the wall. Thank you Canon.
We think this printer offers great value for money.
Standard delivery
Which takes the form of pallet delivery to a ground-floor entrance, using a tail-lift vehicle. As this is a one-man delivery service, assistance may be required for unloading. The printer will also not be left at your site in the absence of a signature, so you will need to be available at the time of delivery. The unpacking of the printer, together with installation and connection to the network, are all to be carried out by the customer.

Full delivery and installation
Whereby a checklist survey form is completed prior to the printer being delivered and installed. Delivery is performed by a two-man team to a ground-floor location, and you also won't need to worry about doing your own unpacking, installation, ink loading, testing, or connecting the printer to the network. Our team will also load the printer drivers onto one PC, and provide basic training. All packaging will be removed from the printer for you, including the pallet.

For installations on any floor other than the ground floor, and/or help with complex network requirements, please contact us to discuss your needs in greater detail. 01296 393799 - Email: sales@prizmagraphics.co.uk