HP Designjet Z3200 A1 24" Photo Printer Q6718B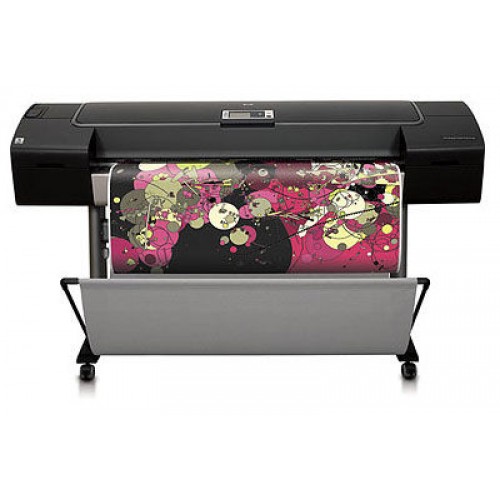 HP Designjet Z3200 Q6718B delivers wide colour gamut and outstanding black and-white prints
• 12 Original HP Photo Inks deliver gallery-quality black-and-white and colour prints lasting up to 200 years
• Create exceptional black-and-white prints—an HP Quad-black ink set delivers smooth transitions, neutral greys.
• Get superior gloss uniformity and minimize bronzing on most gloss photo papers with HP Gloss Enhancer
• Achieve an expanded colour gamut with 96% PANTONE® coverage enabled by HP chromatic red ink.mEasy color calibration and profiling
• Generate custom ICC profiles and achieve colour accuracy, consistency with the embedded spectrophotometer5
• See consistent print-to-print colour regardless of fluctuating environmental conditions with HP technologies.
• Simplify your workflow— easily access, create, and share paper presets using the enhanced HP Colour Center.
Print Color images9 Fast: 2 min/page on A1/D or up to 17 m2/hr (182.9 ft2/hr) on coatedmedia.
Best: 12.4 min/page on A1/D or up to 2.58 m2/hr (27.8 ft2 / hr) on glossy media
Print resolution Up to 2400 x 1200 optimized dpi
Margins (top x bottom x left x right)
Roll: 5 x 5 x 5 x 5 mm (0.2 x 0.2 x 0.2 x 0.2 in) (borderless on photo roll media)
Sheet: 5 x 17 x 5 x 5 mm (0.2 x 0.67 x 0.2 x 0.2 in)
Technology HP Thermal Inkjet
Image quality Color accuracy Median < 1.6 dE2000, 95% of colors < 2.8 dE200010 Short-term color stability < 1 dE2000 in less than 5 minutes11
Long term print-toprint repeatability Average < 0.5 dE2000, 95% of colors < 1.4 dE200011
Maximum optical density 4 L* min/2.5 D12
Media Handling Sheet feed, roll feed, media bin13, automatic cutter (cuts all media except canvas)
Weight Up to 500 g/m² (133 lb)
Size 24-in models: 210 x 279 to 610 x 1676-mm (8.3 x 11 to 24 x 66-in)
sheets; 279 to 610-mm (11 to 24-in) rolls
44-in models: 210 x 279 to 1118 x 1676-mm (8.3 x 11 to 44 x 66-in)
sheets; 279 to 1118-mm (11 to 44-in) rolls
Thickness Up to 0.8 mm (31.5 mil)
Applications Photos, Digital fine art, Graphics design, Layouts and comps, Mockups, Proofs, Proofing
Memory Standard 256 MB
Hard disk 80 GB
Connectivity Interfaces
(standard)
Gigabit Ethernet (1000Base-T), Hi-Speed USB 2.0 certified, EIO
Jetdirect accessory slot
Interfaces
(optional) HP Jetdirect EIO print servers
Print languages
(standard) Adobe® PostScript® 3TM, Adobe® PDF 1.6, TIFF, JPEG, HP PCL 3 GUI
Drivers (included) Adobe® PostScript®, HP PCL 3 GUI
Dimensions
(w x d x h)
Printer 24-in models: 1262 x 690 x 1047 mm (49.7 x 27.2 x 41.2 in)
44-in models: 1770 x 690 x 1047 mm (69.7 x 27.2 x 41.2 in)
Shipping 24-in models: 1470 x 780 x 740 mm (57.8 x 30.7 x 29.1 in)
44-in models: 1965 x 780 x 780 mm (77.3 x 30.7 x 30.7 in)
Weight Printer 24-in models: 65 kg (143 lb)
44-in models: 86 kg (189 lb)
Shipping 24-in models: 102 kg (225 lb)
44-in models: 123 kg (271 lb)
Filters
Application
Photo & Fine Art Printing
Printer Size
A1
HP Designjet Z3200 Photo Printer, spindle, printheads13, introductory ink cartridges,
printer stand and media bin13, rear tray, 3-in core adapter, quick reference guide, setup
poster, USB cable, power cord, HP Start-up kit including printer software