HP DesignJet T520 A1 24" Large Format ePrinter CQ890A Special Offer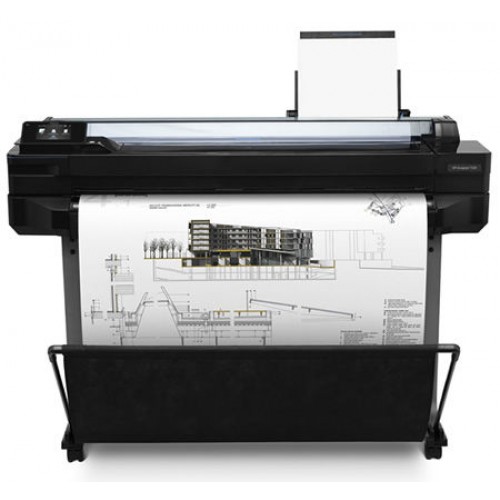 This top-selling large format printer makes it easy to achieve accurate lines and sharp details in your designs, maps, photos, and presentations at resolutions up to 2400 dpi. With convenient features and a space-saving design, the Wi-Fi connected¹ HP DesignJet T520 Printer fits the way you work.


Achieve fast and professional results with this feature-rich, large-format printer.•Produce prints up to 2400 dpi – Original HP inks deliver rich colours, sharp lines and fine details. Use HP media for optimal, reliable results.
•Process complex files at high speeds: get a D/A1 print in 35 seconds, thanks to 1 GB RAM and HP-GL/2 technology.
•Deliver architectural designs, maps, photos and presentations without sacrificing quality, thanks to Original HP inks.
•WiFi Enabled or Cable connection to Network.
•Reduce downtime and improve productivity – Original HP inks help you see consistent, outstanding results from the first print.Experience easy and convenient printing.
•The intuitive, full-colour, 109 mm (4.3-in) touchscreen simplifies navigation and lets you access and print files right from your printer.
•Rely on true print previews from the driver to complete your work quickly and accurately and prevent costly errors.
•Print documents up to 610 mm (24-in) wide, with a built-in B+/A3 tray and front-loading media roll.
•Easily set up your printer where you need it and connect everyone in your studio, thanks to built-in Wi-Fi2.Print from virtually anywhere1.
•Print to your HP Designjet ePrinter from your laptop, Apple® or Android™ smartphone or tablet with HP Designjet ePrint & Share1.
•Access and print large-format projects when you're away from your studio, using HP Designjet ePrint & Share1.
•Automatically save copies of your work to the cloud, and access them from virtually anywhere with HP Designjet ePrint & Share1.
•Email projects to your HP Designjet T520 ePrinter and print, thanks to its web connectivity features1.
Compatible operating systems Microsoft® Windows® 7 Ultimate/Professional/Home Premium, Windows Vista® Ultimate/Business/Home Premium, Windows® XP (32-bit, 64-bit) Professional/Home, Windows® Server 2008 (32-bit/64-bit), Windows® Server 2008 R2, Windows® Server 2003 (32-bit/64-bit); Mac OS X v10.6, v10.7, v10.8; Citrix XenApp; Citrix XenServer; Linux (see http://www.hplip.net)
Dimensions and weight Minimum dimensions (W x D x H)T520 610mm: 987 x 530 x 932 mm
WeightT520 610mm: 34 Kg
1 Requires an HP Designjet ePrint & Share account, Internet connection to the printer, and connected Internet-capable device. When using the HP Designjet ePrint & Share mobile app, a compatible Apple® iOS or Android™ device and Internet connection are required. Data or connection charges may apply. Print times may vary. For more information visit www.hp.com/go/eprintandshare.2 Wireless performance is dependent on physical environment and distance from access point, and may be limited during active VPN connected.
Filters
Application
CAD Printing
Hard Drive
No
Ink Type
Dye - Cyan, Magenta, Yellow Pigment - Black
Max Paper/Media Weight
280gsm
Max Print Width
A1 24" 610mm
Print Speed
35 sec - A1 CAD Print
Printer Size
A1
Scanner
No
Warranty
1 Year
Wireless
Yes
HP DesignJet T520 ePrinter
Floor Stand & Bin
Printhead
Spindle
Introductory ink cartridges
Quick reference guide
Setup poster
Startup software
Power cord
HP Care Pack - HP 1 year onsite warranty