A2 Flatbed Scanner IQ FLEX Contex - Scanner for Creativity and Careful Document Handling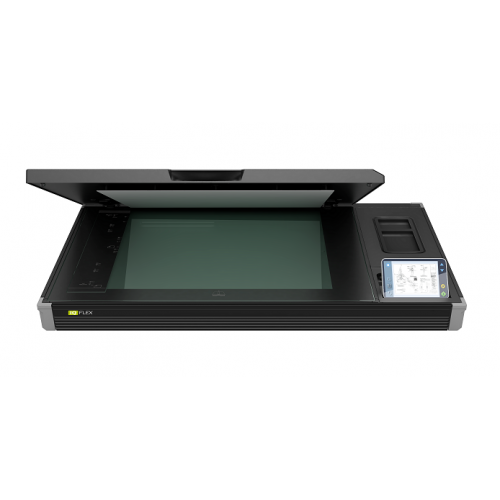 Key features
CIS technology for sharper images
User-friendly and intuitive 7" multi-function touch screen.
IQ FLEX ControllerGigabit Ethernet and WiFi connectivity.
Full A2 scanning bed.
Scan A2 / C-size originals in 6 seconds
Oversize (A1) capture and Special Book Mode.
Annotation tools are included to scan and mark up.
Scan direct to Cloud Destinations and USB3 memory.
Includes Contex MF Touch Controller
The IQ FLEX includes the Contex built in multi-function touch controller so no need for an additional PC.
The MF controller allows you to scan to USB3, or the network using Gigabit Ethernet or WiFi via the Link software and other cloud destinations.
More possibilities
Protect fragile originals by placing them on the scanner bed or utilise the flexibility of a flatbed to scan books, textiles, and artwork.
WiFi enabled large format scanner.Wi fi logo blue
With both Gb Ethernet and WiFi the IQ FLEX is the only WiFi enabled large format flatbed scanner.
New technology allows you to scan direct to most devices.
Large Format Printer supportIntegrated Logo for SD One MF
HP, Canon and Epson drivers are included so can connect directly to your choice of printer.
SMALL IQ FLEX Open front
Scan direct to USB3
The IQ FLEX has a USB3 port so you can scan direct to USB memory.
Scan size A2 / C-size

Oversize scanning A1 / D-size
Scan width Arc C +30 mm = 18" +30 mm = 487.2 mm and Scan length Arc C +30 mm = 24" +30 mm = 639.6 mm
Scan Area 18 x 24" (457 x 610 mm)
Maximum Image Size 24 x 36" (610 x 914 mm)
Scanning speed1 (inch/sec.): Scanner speed while scanning a 18" x 24" wide document
200 dpi RGB Color or Grayscale/ Monochrome Full scan bed in 6 seconds
Capture Technology Optical resolution 1200 x 1200 dpi
Maximum Resolution 9600 dpi
CIS Technology Contex CleanScan+
Maximum Media Thickness Unlimited
Accuracy 0.1% +/- 1 pixel
Data Capture (color/mono) 48-bit / 16-bit
Color Space Adobe RGB / Device RGB / RAW RGB / sRGB
Effective number of Pixels 23017 pixels
Energy Star Compliant Yes
Connectivity
Supported OS (incl. drivers) 64-bit Windows 10, 8, 7 and Vista
File formats2 TIF, JPG, PDF, PDF/A, DWF, CALS, BMP, JPEG-2000(JP2), JPEG2000 Extended(JPX), TIF-G3, TIF-G4, others
Download Destinations Dropbox, Google Drive, Microsoft Sky Drive, Box.com. rainforest365 ready
Network Gb Ethernet
Software3 NextImage5, AutoCAD® , Microstationtm, ArcGIStm and all other CAD, GIS and 64-bit TWAIN application driver included for use with
EDM and other imaging software
Embedded Controller
Touch Screen 7" Multi Touch Screen. 800 x 480 pixels
Processor Atom Quad-Core
Memory (ram/flash) 8GB / 16 GB
Destinations Network PC's, Cloud, Email, Copy and USB key
File formats TIF, JPG, PDF, PDF/A, DWF, CALS, BMP, JPEG-2000(JP2), JPEG2000 Extended(JPX), TIF-G3, TIF-G4, others
Supported printers Selected HP, Canon and EPSON wide format printers. See full list on Contex.com
Power, weight and dimensions
Power Consumption
(Ready / Sleep Mode / Scanning) Max 10W / 0.5W / 23W – ENERGY STAR certified
Power Requirements 100 – 240V, 60/50Hz, 80W
Unpacked Weight/ Dimensions (L x W x H*) 35 kg (77Ibs) / 661 mm (26") x 1176 mm (46") x 194 mm (8")
Packed Weight 43 kg (95Ibs)
Packaging method Foam shock protection frame inside thick cardboard box
Filters
Application
Colour Scanning
Scanner Size
A2
IQ-FLEX - 1200dpi A2 Flatbed CIS colour scanner
• Installation Sheet
• Normalisation & calibration target
• UK power cable
• Ethernet cable
• WiFi dongle
• Manufacturer's two years Return To Factory warranty
PLUS
• First-year on-site/swap-out extended warranty