Colortrac SmartLF Scan A1 24" Lightweight Colour Scanner with Carrying Case. Special Offer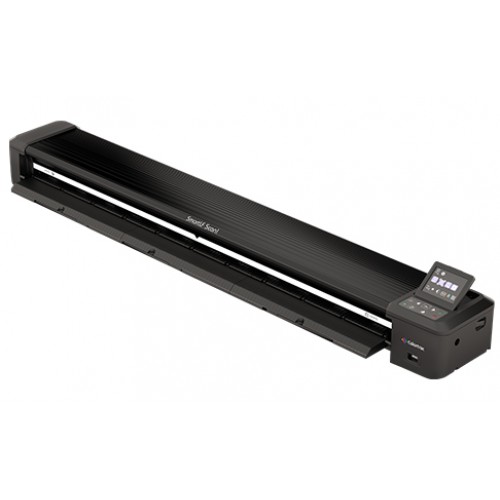 The Colortrac SmartLF Scan is the worlds first self contained scanner for large format drawings and documents up to A1 in size weighing in at only 5.2kg this lightweight device is supplied with a toughened carry case which allows you to move the device to multiple sites with ease. Using Colortracs patented SingleSensor technology at its core this lightweight solution requires only power to produce stunningly accurate scans which can be saved to USB drive network or its on-board 6GB storage.
On the road
The scanner is self-contained. Just plug it in and go. Save scans within the scanner memory and download back at your office. From only5.2 kg, you can now carry SmartLF Scan! instead of battling with dozens of paper drawings.
On site
This is different. This is smart. SmartLF Scan! Beautifully designed. Simple to use. Enjoy your work. Take your scanner on site and to client offices.Collaborate.Amend drawings. Scan the originals and leave them with your colleagues, then work online back at your office.
On the desk
Fully network compatible for when you are back in your office. Scan to PC or Cloud. Wireless network? You can work wirelessly.
Scan System
Three modes of operation. TIFF, JPEG and PDF files are generated inside the scanner. They can be
1 – stored in the scanner for transfer later
2 – stored directly on a USB stick (4-128 GB, FAT-32)
3 – transferred directly to local PC
4 – transferred directly to networked PC
5 – send via e-mail using your iPhone or iPad
6 – stored in the Cloud using your iPhone or iPadWhen connected to a PC, additional black and white binary files are available.
SmartLF Scan! is self-contained and only requires a power supply to operate.


SmartLF Scan! 24
SmartLF Scan! 36

DocLogic

Intellegent image optimsation system automatically sets dpi of document or photos according to physical size to maximise image quality and reduce file size.

Max Scan Width

24" (609.6mm)

36" (914.4mm)

Max Image Length

- Product maximum increased to 200" (5m)
- Each DPI has fixed maximum length
- Maximum lengths apply to all formats



200 DPI - up to 200" (5m)




300 DPI - up to 200" (5m)




400 DPI - up to 150" (3.8m)




600 DPI - up to 109" (2.7m)



The scanner can generate long scans up to these maximums in all formats i.e. JPEG, PDF or TIFF. Note that 300dpi is a resolution used exclusively by the automatic DocLogic system and cannot be selected manually.


Min Media Width / Thickness

6.2" (160mm) / 0.003" (0.07mm)

6" (150mm) / 0.003" (0.07mm)

Max Scan Width

26" (660mm) / 0.02" (0.5mm)

38" (965mm) / 0.02" (0.5mm)

Optical Resolution

600dpi

Scan Accuracy

0.2 % +/-1 pixel

Internal Memory

Approx. 6 GB or 8 scans

SingleSensor Digital Imaging Technology

SingleSensor is a full width straight-line contact image sensor (US patent #8,922,849) bi-directional long-life LED light system for optimum object illumination and instant-on scanning capability.

Operation Modes

Scan to internal memory / scan to USB stick (not supplied) / scan to networked computer

Colour Space

24-bit sRGB and grayscale (plus bi-directional using the PC connection)

Scan Speeds
(maximum at 200dpi)
4.5 inches per second (114.3mm/sec) grayscale
3 inches per second (76.2mm/sec) colour

Paper Path

Centered, face-up, front entry

Data Interfaces

Front: USB2 socket for scan to USB memory stick.
Rear: Ethernet RJ45 GBit for scan to computer over network

Host Platform

Windows 10, Windows 8, Windows 7, 32-bit and 64-bit architectures

Scan Software

Scan formats using native Windows Apps. A small Windows program is supplied to recieve live or stored scan files from the scanner. This is not required for scan to USB stick operation.

Certifications

ENERGY STAR qualified, CB, CE, CCC, FCC, UL, RoHS compliant

Warranty

12 months / 30,000 linear meters whichever comes first
Filters
Application
Colour Scanning
Scanner Size
A1
SmartLF Scan Scanner
Tough Wheeled Carry Case
Power Supply
Calibration Target
RJ45 Ethernet Cable
1 Year RTB Warranty