A1 Colour Scanner Colortrac SmartLFP SC25e Express Colour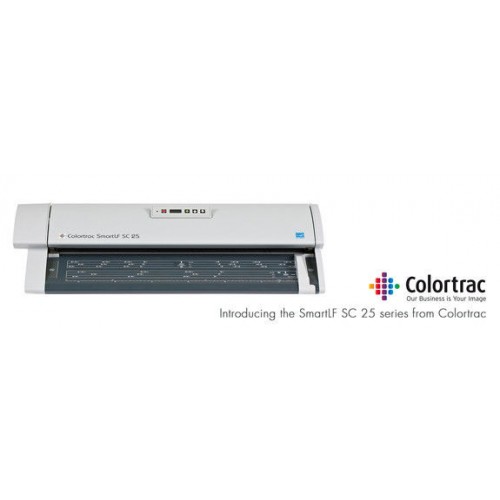 Filters
Application
Colour Scanning
Scanner Size
A1
Views: 4689
Brand: Colortrac
Product Code:

SC25e

Pack Qty:

1

Individual Price :

£2,579.00

Availability:

In Stock
Product Description
Included in the Box: Scanner, installation & User Guide (e-format), Drivers CD for Windows Vista & 7 only, SmartWorks EZ Touch Plus software, ISIS Driver software, Advanced SmartWorks Pro software (available in demo mode until a licence is purchased), Power supply and cable, USB3.0 (3m) data cable, Two years warranty . NB: STAND is OPTIONAL

Free Delivery to Ground Floor.
Colortrac SmartLF SC 25 Details:
1200dpi optical with 9600dpi maximum resolution
Maximum 24in image width for A1 documents
Minimum scanned size A4/A-size document
Express. Scan speed Colour 6 in/sec
NEW SuperSpeed USB3.0 providing up to 5Gb/sec data transfer
NEW Magnetic document edge guide for easier location and more positive document loading
NEW Scanner Display showing actual scan document width BEFORE THE SCAN STARTS
NEW SmartWorks EZ Touch SCAN/COPY/EMAIL software included as standard
NEW SingleSensor technology with extra long-life, instant-on Bi-directional LED illumination
High speed scans in monochrome.
Sharp, fine image detail - superb black & white scan-once capture system
Clean black & white images - excellent grayscale capture
On-site upgrade from monochrome to Color or Express Color
Reliable paper feed from advanced full width single driven Hold-up Roller
Scans media up to 0.08in / 2.0mm - suits ALL technical documents
Fast, high quality scans from power-on, no warm-up, no waiting!
Low maintenance, low environmental impact, Energy Star qualified
SingleSensor Technology
The new SingleSensor (patent pending) digital imaging technology for SmartLF SC 25 large format scanners is a Colortrac invention. It combines Contact Imaging Sensors (CIS) in a robust design that are aligned in a single array for life. This gives a higher optical quality and improved match between sensors. Coupled with a short image path that reduces optical errors and a full width scan, it has 30,000 pixels at an optical resolution of 1200dpi helping to record accurate colour fidelity and immaculate digital image rendition. Image lighting whilst scanning is with a bi-directional white LED lighting system, it optimises the object illumination whilst giving an "Instant-on" scan response. This lowers power consumption and eliminates the effects of shaded areas caused by document creases seen in some scanners.
Larger Document Staging Area
Uses a new design incorporating a larger and easier staging platform to load your documents "Face-up" up into the scanner. With a maximum media width of 25" (635 mm) and with Right or Centre justified document loading, it uses the proven straight-through media path for flexible media in the form of technical documents and maps up to 0.08″ (2 mm) thick. This is more than enough to meet most AEC, CAD, GIS and Copyshop or service bureau scanning requirements.
Dynamic Document Feed
SmartLF SC 25 large format scanner uses a new document feed design incorporating a full width document transport roller giving it the ability to dynamically respond to small changes in document thickness such as creases. It also maintains an even feed tension across the full width of the document. This even pressure ensures delicate or fragile media such as Newspaper or old Blueprints may be safely scanned keeping the media firmly against the imaging SingleSensor across the document width. This increases the image accuracy and reduces the impact of any shadows caused by wrinkles in the document.