A1 Colour Scanner Colortrac SmartLFP SC25c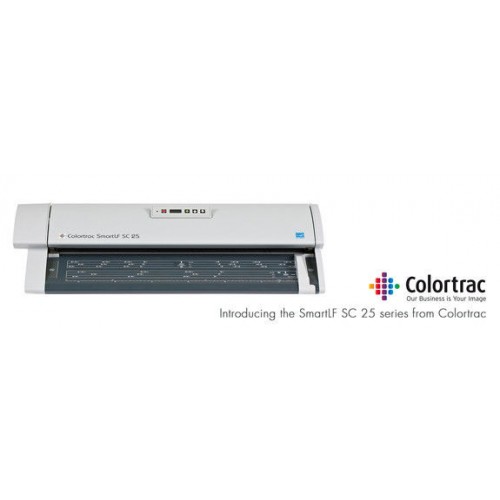 SingleSensor Technology
The new SingleSensor (patent pending) digital imaging technology for SmartLF SC 25 large format scanners is a Colortrac invention. It combines Contact Imaging Sensors (CIS) in a robust design that are aligned in a single array for life. This gives a higher optical quality and improved match between sensors. Coupled with a short image path that reduces optical errors and a full width scan, it has 30,000 pixels at an optical resolution of 1200dpi helping to record accurate colour fidelity and immaculate digital image rendition. Image lighting whilst scanning is with a bi-directional white LED lighting system, it optimises the object illumination whilst giving an "Instant-on" scan response. This lowers power consumption and eliminates the effects of shaded areas caused by document creases seen in some scanners.
Larger Document Staging Area
Uses a new design incorporating a larger and easier staging platform to load your documents "Face-up" up into the scanner. With a maximum media width of 25" (635 mm) and with Right or Centre justified document loading, it uses the proven straight-through media path for flexible media in the form of technical documents and maps up to 0.08″ (2 mm) thick. This is more than enough to meet most AEC, CAD, GIS and Copyshop or service bureau scanning requirements.
Dynamic Document Feed
SmartLF SC 25 large format scanner uses a new document feed design incorporating a full width document transport roller giving it the ability to dynamically respond to small changes in document thickness such as creases. It also maintains an even feed tension across the full width of the document. This even pressure ensures delicate or fragile media such as Newspaper or old Blueprints may be safely scanned keeping the media firmly against the imaging Single Sensor across the document width. This increases the image accuracy and reduces the impact of any shadows caused by wrinkles in the document.
SC 25m Xpress SC 25c Xpress SC 25e Xpress
Optical Resolution 1200 dpi 1200 dpi 1200 dpi
Extended resolution Linear interpolation from 100 to 9600dpi in 1 dpi steps
Max Scan Width 25in (63.5cm) 25in (63.5cm) 25in (63.5cm)
Max Media Width / Thickness 27in (68.6cm) / 0.08" (2.0 mm) 27in (68.6cm) / 0.08" (2.0 mm) 27in (68.6cm) / 0.08" (2.0 mm)
Scan Accuracy +/-0.1% +/-1 pixel +/-0.1% +/-1 pixel +/-0.1% +/-1 pixel
SingleSensor digital imaging technology
SingleSensor is a full width straight-line contact image sensor of 30,000 pixels; a Colortrac invention - patent pending.
Bi-directional long-life LED light system for optimum object illumination and instant-on scanning capability
Black & White (panchromatic full spectrum) 16-bit primary point greyscale image capture 48-bit primary point colour image capture
Max Image Length The maximum image length using SmartWorks Touch is 96" (2438mm). The maximum resolution & size (width & length)
for a SmartWorks Pro image is limited by the file format specified, the available disk space and the computer operating system.
Data Capture (color/grayscale) 16-bit 48-bit/ 16-bit 48-bit/ 16-bit
Color Space
n/a
Raw RGB from scanner Raw RGB from scanner
sRGB using SmartWorks Touch sRGB using SmartWorks Touch
Profiled RGB from optional Profiled RGB from optional
SmartWorks Pro SmartWorks Pro
Scan Speed @ 200dpi
8-bit grayscale & mono (inch/sec) 13.0 13.0 13.0
Scan Speed @ 200dpi
24-bit color (inch/sec) n/a 6.0 12.0
Paper Path Face-up, front entry, rear exit or rewind to front, front exit with optional Document Return Guide
Interface SuperSpeed USB 3.0 data transfer rates up to 85MB/sec
Optimised USB2 transfer rates up to 35MB/sec (using 2m USB cable supplied). Local power cable.
Power Requirements External power supply 100~240VAC auto-sensing +/-10%, 50-60Hz Scanner power consumption: 53W (scanning), 5W (standby)
Operating Conditions 10oC – 35oC, 35% – 80% Relative Humidity non-condensing
Weight & Dimensions (WxHxD) Scanner: 40 lbs (18 kg) / 34.2 x 6.0 x 15 inches (87 x 15.2 x 38.1 cm)
Packed: 46 lbs (21 kg) / 40 x 9.3 x 20.1 inches (101 x 24 x 52 cm)
Host Platform Windows 10, Windows 8, Windows 7 – 32-bit and 64-bit architectures
Certifications ENERGY STAR qualified, CB, CE, CCC, FCC, UL, RoHS compliant
SmartWorks TOUCH software
(included)
Simple-to-use software for scanning, copying and printing. Intuitive interface designed for touch screens or mouse and keyboard
operation. Select the mode, choose the document type closest to the original and press go. All document types can be individually
modified.
Save to PDF, PDF/A, MPDF, JPEG, JPEG2000, PNG, AutoCAD DWF, TIFF, TIFF LZW, TIF-G4, MTIFF, PCX, BMP. Batch scanning, full
preview and all Windows driven printers supported.
TWAIN A Twain driver is included which provides basic control over scanner color mode, resolution and paper size setting.
A compatible application is required – see Colortrac .com for details.
Optional Accessories Floor Stand - includes Paper Catch Basket plus optional PC, Monitor, Keyboard and Mouse mounting kit. Repro Stand - adjustable height to fit most popular Large Format printers. Includes Keyboard tray, PC & Flat screen monitor mounting kit. Optional Document Return Guide for front-feed, front-return capability
Filters
Application
Colour Scanning
Scanner Size
A1
Included in the Box:
Scanner, installation & User Guide (e-format), Drivers CD for Windows Vista & 7 only, SmartWorks EZ Touch Plus software, ISIS Driver software, Advanced SmartWorks Pro software (available in demo mode until a licence is purchased), Power supply and cable, USB3.0 (3m) data cable, Two years warranty . NB: STAND is OPTIONAL
Standard delivery
Which takes the form of pallet delivery to a ground-floor entrance, using a tail-lift vehicle. As this is a one-man delivery service, assistance may be required for unloading. The printer will also not be left at your site in the absence of a signature, so you will need to be available at the time of delivery. The unpacking of the printer, together with installation and connection to the network, are all to be carried out by the customer.

Full delivery and installation
Whereby a checklist survey form is completed prior to the printer being delivered and installed. Delivery is performed by a two-man team to a ground-floor location, and you also won't need to worry about doing your own unpacking, installation, ink loading, testing, or connecting the printer to the network. Our team will also load the printer drivers onto one PC, and provide basic training. All packaging will be removed from the printer for you, including the pallet.

For installations on any floor other than the ground floor, and/or help with complex network requirements, please contact us to discuss your needs in greater detail. 01296 393799 - Email: sales@prizmagraphics.co.uk