HP Designjet T730 ePrinter A0 36" CAD & General Purpose Printer F9A29A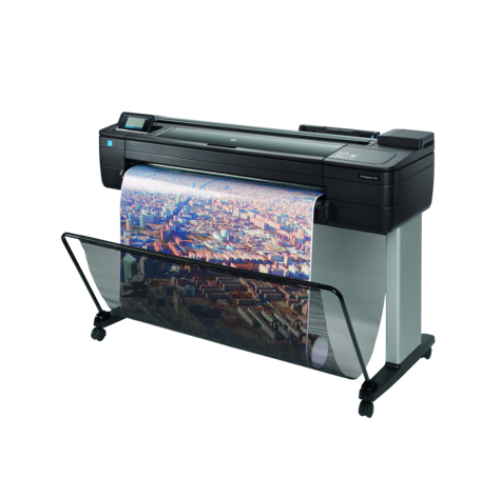 Robust - Compact - Large inks - Quiet - Fast

A Smart Investment for Small Business and developed with SmartPhone technology in mind, the T730 offers quiet, quick & efficient printing in a neat, compact and very robust body.

Offering high quality line drawings up to A0 size in speeds from just 25 seconds for an A1, this Wi-Fi enabled printer also boasts a 1Gb memory, a choice of 3 ink cartridge sizes from 40ml up to 300ml, and the ability to print directly from a USB stick. It comes with both Windows and Mac drivers and Apple AirPrint Driver.

The HP DesignJet T730 is one of the very first HP wide format printers to have the option of a 'DesignJet Rugged Case' which can be purchased to protect the machine if it is to be moved from site to site prolonging its life and creating an easily movable device.

SMART—Invest in a robust printer
Robust, compact, and professional - this printer fits your business and gives you space to work
Produces prints 3 times faster than previous HP models—see A1/D-size prints delivered in 25 seconds
Choose from 40- to 300-ml HP ink cartridges to fit your print volume, large supplies can reduce interventions
EASY—Convenient printing helps reduce time, waste
Cut waste by 50%—print at half scale with automatic sheet feeder/tray; cut extra work, waste of wide rolls1

The front panel works like a smartphone—easily swipe through the intuitive user interface on the touchscreen
No LAN needed—move this printer any time, any place your Wi-Fi signal can reach with wireless connectivity2
MOBILE—Easily print from smartphone or tablet2
Print from mobile devices in a few simple clicks with HP Mobile Printing2 - quickly work through revisions

If you're on-the-go, attach your document to an email and send it directly to your printer via ePrint2
Use the HP AiO Printer Remote app[3] to access additional print features when printing from a mobile device
The printer creates its own Wi-Fi network for easy connectivity with Wi-Fi Direct
1 Printing on sheets eliminates the extra work and cutting waste of printing on performance equivalent roll-based printers in the market as of September, 2015. For example, printing at half scale (13.5 inches) on a typical (36-inch) roll results in over 50% paper waste and additional labor to cut.
2 Local printing requires mobile device and printer to be on the same network (usually Wi-Fi access points bridge wireless to wired connections) or have a direct wireless connection. Wireless performance is dependent on physical
environment and distance from access point. Wireless operations are compatible with 2.4 GHz operations only. Remote printing requires an Internet connection to an HP web-connected printer. Wireless broadband use requires
separately purchased service contract for mobile devices. Check with service provider for coverage and availability in your area. See hp.com/go/designjetmobility for more details.
3 The HP All-in-One Printer Remote mobile app is available for Apple® iPad, iPhone, and iPod Touch running iOS v7.0 or later and for Android™ mobile devices running Android™ v4.4 or later.
The HP All-in-One Printer Remote mobile app is available for free from the Apple® App Store for Apple® mobile devices and from the Google Play Store for Android™ mobile devices.
Functions - Print
Model size - 914 mm
Print speed line drawing (economode, A1 plain paper) - 82 A1 prints per hour
Print technology - HP Thermal Inkjet
Printer drivers included - HP-GL/2, HP-RTL drivers for Windows; HP PCL 3 GUI driver for Mac OS X and Windows
Print quality color (best) - Up to 2400 x 1200 optimised dpi
Print languages - HP-GL/2, HP-RTL, TIFF, JPEG, CALS G4, HP PCL 3 GUI, URF
Number of print cartridges - 4 (cyan, magenta, yellow, black)
Compatible ink types - Dye-based (C, M, Y); Pigment-based (K)
Line accuracy - +/- 0.1%
Maximum optical density (black) - 8 L* min/2.10 D
HP ePrint capability - Yes
Connectivity, standard - Gigabit Ethernet (1000Base-T); Wi-Fi; Hi-Speed USB 2.0 certified connector
Connectivity, optional - HP USB 3.0 to Gigabit LAN Adapter
Network ready - Standard
Memory, standard - 1 GB
Memory, maximum - 1 GB
Hard disk - None
Finished output handling - Sheet feed, roll feed, input tray, media bin, automatic cutter
Media sizes standard (metric rolls) - 210 to 914 mm wide sheets; 279 to 914 mm rolls
Media sizes, custom - Input tray: 210 x 279 to 330 x 482 mm; Manual feed: 330 x 482 to 914 x 1897 mm; Roll: 279 to 914 mm
Media types - Bond and coated paper (bond, coated, heavyweight coated, recycled, plain, bright white), technical paper (natural tracing, vellum), film (clear, matte), photographic paper (satin, gloss, semigloss, premium, polypropylene), self-adhesive (adhesive, polypropylene)
Roll external diameter - 100 mm
Media thickness - Up to 11.8 mil
Power - Input voltage (auto ranging): 100 to 240 VAC (+/- 10%), 50/60 Hz (+/- 3 Hz), 1.2 A max
Power consumption - 35 watts (printing), 3.5 watts (sleep), 0.2 watts (standby)
Energy efficiency - ENERGY STAR® qualified
ENERGY STAR® qualified - Yes
Operating temperature range - 5 to 40ºC
Minimum dimensions (W x D x H) - 1403 x 583 x 1155 mm
Weight - 48 kg
Package dimensions (W x D x H) - 1578 x 575 x 646 mm
Package weight - 70 kg
Filters
Application
CAD Printing
Ink Compatibility
Dye - C, M, Y Pigment Black
Max Paper/Media Weight
280gsm
No. of Printer Inks
4 Ink System
Printer Options
WiFi
Printer Size
A0
Standard Items
HP DesignJet T730 Printer
Printer Floor Stand and Collection Bin
Printhead
Introductory Ink cartridges (x4)
Spindle (extra spindles can be purchased for quick change of paper)
Quick reference guide
Setup poster
Startup software
Power cord
The HP T730 A0 Printer comes with a two year warranty as standard.
For peace of mind. we supply three, four and five year HP Carepacks with next day on site service support. Click here for full information and to order with your printer.
If you would like to discuss the best option for you, please call our knowledgeable sales team who will be happy to advise on 01296 393700.
For CAD monochrome and line colour technical drawings, an uncoated paper is all you need to produce high quality prints with the HP T730 plotter. Our PCR90 Uncoated Inkjet Plotter Paper is our most popular paper, being a heavier 90gsm weight and a high performing and affordable option. Importantly, this is a consistent paper for consistently high quality results that can cope with light solid fill as well as line colour output.
However, this HP T730 printer will also allow you to create full colour presentations and posters. For high quality results a coated paper is a must and for this purpose we recommend our CJSC100 Coated Inkjet Plotter Paper 100gsm or our PHR120 Coated Inkjet Plotter Paper 120gsm. Both of these papers have a smooth, white surface that can cope with the heavier ink loads required for presentations with vivid colours and superb contrast, all with the fast drying time necessary for pristine results.
But that's not all this printer can achieve. Upgrade your paper to our Matt Coated Inkjet Poster Paper 165gsm and 180gsm or Satin Photo Paper in, for example, a 190gsm weight and the HP T730 will allow you to produce your own in house posters within the spectrum of the 4 colour gamut. Both our Coated Poster Papers and Satin Photo Paper are ideal for maps, photos and charts, with a microporous coating that enables the ink to dry instantly with fantastic colour contrast for sharp, brilliant images.
HP DesignJet T730 A0 ePrinter - a great printer at a great price.
A compact, easy to use, robust and standalone printer with a media bin for catching your prints as they are automatically cut, handy for unattended printing.
Ideal for design studios and architectural practices as well as constructional engineering and building companies that require a versatile printer with the option to produce presentation prints and in-house posters.
A fully neworked printer with Wi-Fi connectivity, so you can place it anywhere within reach of your Wi-Fi signal. Plus, HP Mobile Printing for remote printing direct from your Apple or Android Smartphone or Tablet.
Faster print speeds than the HP T520, print an A1 CAD drawing in 25 seconds, 82 A1 prints per hour.
Flexible roll size capacity from 297mm to 914mm plus a sheet feed tray for A3 and A4 cut sheets.
Flexible ink cartridge capacity from 40ml to 300ml to allow you to select the best cartridge to suit your print volumes.
HP DesignJet Rugged Case available to protect against water, dust and damage while transporting on location. The large rugged wheels provide stability and traction. Easy to open and close case when you are using the printer with the case on.
Two year warranty as standard providing additional piece of mind.
Standard delivery
Which takes the form of pallet delivery to a ground-floor entrance, using a tail-lift vehicle. As this is a one-man delivery service, assistance may be required for unloading. The printer will also not be left at your site in the absence of a signature, so you will need to be available at the time of delivery. The unpacking of the printer, together with installation and connection to the network, are all to be carried out by the customer.

Full delivery and installation
Whereby a checklist survey form is completed prior to the printer being delivered and installed. Delivery is performed by a two-man team to a ground-floor location, and you also won't need to worry about doing your own unpacking, installation, ink loading, testing, or connecting the printer to the network. Our team will also load the printer drivers onto one PC, and provide basic training. All packaging will be removed from the printer for you, including the pallet.

For installations on any floor other than the ground floor, and/or help with complex network requirements, please contact us to discuss your needs in greater detail. 01296 393799 - Email: sales@prizmagraphics.co.uk