Canon imagePROGRAF Pro 2000 A1 24" 12 Colour Photo & Fine Art Printer - 1124C003AA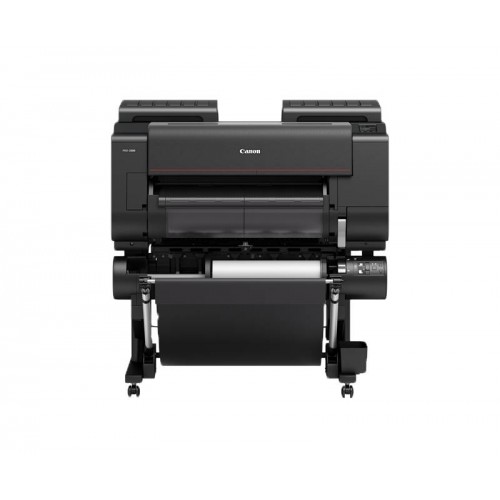 Ink
innovation
Marrying LUCIA PRO pigment ink technology with a 12-colour, 1.28" print head, the PRO-2000 delivers a stunning colour gamut and impressive tonal expression.
Productive processing
Canon's L-COA PRO engine harnesses advanced algorithms and application-specific integrated circuitry to ensure overall performance is fast and efficient.
Class-leading consistency
Experience unwavering quality from the PRO-2000's sturdy frame, which maintains a precise distance between the print head and media while reducing reverberations.
Technology
Printer Type
12 Colour 24"/610mm
Print Technology
Canon Bubblejet on Demand 12 colours integrated type (12 chips per print head x 1 print head)
Print Resolution
2,400 x 1200 dpi
Number of Nozzles
18,432 nozzles (1536 nozzles x 12 colour)
Line Accuracy
±0.1% or less
User adjustments necessary. Printing environment and media must match those used for the adjustments.
CAD paper required: Plain paper, CAD tracing paper, coated paper, CAD translucent matte film only
Nozzle Pitch
600 dpi x 2 includes Non-firing nozzle detection and compensation system
Ink Droplet Size
minimum 4 pl per colour
Ink Capacity
Sales Ink: 160ml/330ml/700ml
Bundled Starter Ink: 160ml
Ink Type
Pigment inks - Black, Matte Black, Cyan, Magenta, Yellow, Photo Cyan, Photo Magenta, Grey, Photo Grey, Red, Blue, Chroma Optimiser
OS Compatability
Microsoft Windows 32 Bit: Vista, 7, 8, 8.1, 10, Server 2008, 64 Bit: Vista,
7, 8, 8.1, 10, Server 2008/R2, Server 2012/R2
Apple Macintosh: OSX 10.7.5 ~ 10.11
Printer languages
SG Raster (Swift Graphic Raster), PDF (Ver.1.7), JPEG (Ver. JFIF 1.02)
Standard Interfaces
USB A Port: USB Memory Direct Print for JPEG/PDF files
USB B Port: Built-in Hi-Speed USB 2.0
Ethernet: 10/100/1000 base-T
Wireless LAN: IEEE802.11n/IEEE802.11g/IEEE802.11b
*Please refer to user manual how to activate/deactivate the wireless LAN
MEMORY
Standard Memory
3 GB
Hard Drive
320 GB
Printing Speed
Media Type (A0 page size)
Print Mode: Print Time
Plain Paper (A0 page size)
Fast: 1:37 min
Standard: 2:51 min
Coated Paper (A0 page size)
Standard: 2:51 min
High Quality: 5:36 min
Glossy Photo Paper (A0 page size)
Standard: 6:21 min
High Quality: 10:05 min
*Output Image : ISO JIS SCID N5
Media handling
Media Feed and Output
Upper Roll Paper: One Roll, Front-loading, Front Output
Lower Roll Paper: One Roll, Front-loading, Front Output
Cut Sheet: Front-loading, Front Output (Manual feed using media locking lever)
Media Width
Roll paper: 203.2 - 610 mm
Cut sheet: 203.2 - 610 mm
Media thickness
Roll/Cut: 0.07 - 0.8 mm
Minimum Printable Length
203.2 mm
Maximum Printable Length
Roll paper: 18 m (Varies according to the OS and application)
Cut sheet: 1.6 m
Maximum Media Roll Diameter
170 mm
Media Core Size
Internal diameter of roll core: 2"/3"
Margins Recommended area
Roll paper: Top: 20 mm, Bottom: 3 mm, Side: 3 mm
Cut sheet: Top: 20 mm, Bottom: 20 mm, Side: 3 mm
Margins Printable area
Roll paper: Top: 3 mm, Bottom: 3 mm, Side: 3 mm
Roll paper (borderless): Top: 0 mm, Bottom: 0 mm, Side: 0 mm
Cut sheet: Top: 3 mm, Bottom: 20 mm, Side: 3 mm
Media Feed Capacity
Roll Paper: Two rolls. Automatic switching is possible.
Cut Sheet: 1 sheet
Media Take-up roll unit
Dual direction roll take up unit allowing print surface to be wound inside or outside of the roll
Borderless Printing Width (Roll Only)
515mm(JIS B2), 594mm(ISO A1), 10", 14", 17", 24", 257mm(JIS B4)*, 297mm(ISO A3)*, 329mm(ISO A3+)*, 420mm(ISO A2)*, 8"*, 16"*, 300mm*
*Some environmental conditions may not produce the desired result
Maximum number of delivered prints
Standard position: 1 sheet
Flat position: A2 landscape, glossy paper less than 10 sheets, Coated paper less than 20 sheets (excludes strong curled condition)
DIMENSIONS AND WEIGHT
Physical Dimensions and Weight
W x D x H
Main Unit, Stand and Basket
1110 x 984 x 1168 mm (Basket Open)
1110 x 766 x 1168 mm (Basket Closed)
101 kg (including Roll Holder Set, excluding ink and print heads)
Main Unit, Roll Unit, Stand and Basket
117 kg (including Roll Holder Set, excluding ink and print heads)
Packaged Dimensions and Weight
Printer (Main unit with pallet): 1324 x 902 x 1042 mm
129 kg
Stand/Basket: 1111 x 797 x 223 mm
23 kg
Roll Unit: 1244 x 562 x 461 mm
23 kg
Power and operating requirements
Power Supply
AC 100-240V (50-60Hz)
Power Consumption
Operation: 112 W or less
Sleep mode: 3.6W or less 
Default setting for the time to enter the Sleep mode: Approx. 5 Minutes
Power off: 0.5 W or less
Operating Environment
Temperature: 15~30℃, Humidity: 10~80% RH (no dew condensation)
Accoustic Noise (Power/Pressure)
Operation: 48 dB (A) (Glossy paper, Print priority: Standard)
Standby: 35 dB (A) or less
Operation: 6.4 Bels or less (Glossy paper, Image, Print priority: Standard) (Measured
on ISO 7779 standard)
Regulations
Europe: CE mark, Russia: EAC,
Other countries: CB certification
Environment Certificates
International Energy Star Program (WW), RoHS
Filters
Application
Photo & Fine Art Printing
Ink Compatibility
Pigment
Max Paper/Media Weight
300gsm
Memory
3Gb - 320Gb Hard Drive
No. of Printer Inks
12 Ink System
Printer Size
A1
Wireless
Yes
Printer, Roll Unit, 1 x Print Head, 1 x Maintenance Cartridge, 3" Paper Core Attachment, EU & UK Power Cable, 1 Set of Starter Ink Tanks, Set Up Guide, Safety/Standard Environment Leaflet, User
Software CD-ROM (OSX/Windows), PosterArtist
Lite CD-ROM, EU Biocide Sheet, Eurasian Economic Union Sheet, Important Information Sheet, Quick Guide and Printhead Alignment Sheet
Software Included
imagePROGRAF PRO Printer Driver, Print Plug-In for Office, Quick Utility Toolbox and PosterArtist Lite
Other software available as Download from Web.
The Canon PRO-2000 is supplied with a 1 year manufacturer's warranty.

Ink Tank: PFl-1100 (160ml), PFl-1300 (330ml), PFl-1700 (700ml)
Print Head: PF-10
Cutter Blade: CT-07
Maintenance Cartridge: MC-30