Mutoh Valuejet 628 24" Eco Solvent Printer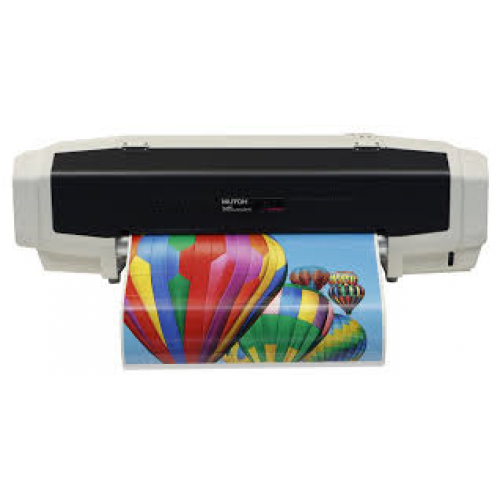 Equipped with the latest generation micro piezo print head, this 8-channel desktop printer delivers high quality prints for indoor and outdoor applications. The ValueJet 628 utilises Mutoh Eco Ultra inks, making it suitable for installation in any working environment. Mutoh's innovative i² Intelligent Interweaving printing technology produces impeccable prints every time.
Designed for small, on-demand production, the VJ-628 is suited to a variety of indoor and outdoor applications: long-term outdoor posters, stickers and labels, signs and banners, apparel decoration, backlit signage, POS displays, vehicle and window graphics, photo prints, fine art reproduction.
---
Revolutionary 1440dpi Print Head
A revolutionary variable drop piezo print head is at the heart of the VJ-628's stunning performance. This 1440-nozzle head comprises four colour sections. Each colour section has 360 nozzles, or two 180 nozzle rows per colour. Because all colour sections are in one head, there is no need for time-consuming head to head calibration routines.
Drop size is from 3.5pl to 35.2pl.
---
Stunning Performance
The ValueJet 628 offers you a wide range of print modes and speeds:
Quality - 720 x 720dpi: 4.6sqm/h
Production - 720 x 720dpi: 9.0sqm/h
Speed Production - 720 x 720dpi: 12.5sqm/h
---
Wide Choice of Media
The ValueJet 628 can handle 2" and 3" core rolls. The printer incorporates three heater zones. The heating elements will pre-heat the media, fix the ink and dry the output. The VJ-628 using Eco Ultra inks is ideally suited to deliver top quality images when printing directly onto a wide range of low-cost standard available uncoated PVC, banner and soft-sign materials as well as for coated substrates.
The printer comes as a desktop printer with integrated roll holders for media up to 9kg.
---
Intelligent Design for User Comfort
As well as easy set up and use, even by inexperienced operators, intelligent design features have been added for extra user comfort on the ValueJet 628:
Multi-functional 2-key keyboard
Printer installer and Windows driver
Auto cutting function
Left and right media retainers and front media guides
offers predictable output quality
---
Fast Return on Investment
Rapid return on investment is available to beginners as well as skilled operators. The combination of affordable pricing, ease of use with consistent high quality output, minimal periodic maintenance required, flexibility for switching quickly between print jobs and low ink consumption (ave 8mil/sqm on uncoated PVC) means the VJ-628 will swiftly turn investment in to profit.
---
Print and Cut
Print and cut simultaneously by running your printer in tandem with a Mutoh multi-purpose ValueCut cutter The user-friendly ValueCut cutting plotter is ready to tackle all your contour cutting applications such as stickers, short-run decals, window signs and more.
ValueJet 628

Key Specifications
Print Technology
Drop-on-demand Micro Piezo Inkjet Technology
Print Head
1 (8 colour channels)
Nozzle Configuration
180 nozzles x 8 lines
Drop Mass Range (pl)
3.5 to 35.2
Head Heights
Low: 1.2mm
High: 2.5mm
Media Specifications
Max Media Width
630mm (24.80")
Max Print Width
620mm (24.40")
Max Media Thickness
0.3/1.3mm (dependent on head height)
Media Measurements
Ø150mm/2" & 3"/9kg
Media Drying System
3 heater zones: pre-heater, platen heater and after-heater
Single control: off, 30-45°C

Sheet Off Function
Auto sheet off system integrated
Take-Up Unit
Motorised Torque 10kg (VJ06-TUP10)
Performance
High Quality (720 x 1080)
3 sqm/h
Quality (720 x 720)
4.6 sqm/h
Quality Prod (720 x 1080)
5.9 sqm/h
Production (720 x 720)
9 sqm/h
Speed Prod (720 x 720)
12.5 sqm/h
Billboard (360 x 720)
16 sqm/h
Ink Specifications

Eco Ultra ink - CMYK.
220ml and 1000ml bag (requires adapter)

| | |
| --- | --- |
| Ink Product Code | Description |
| VJ-MSI3A-BK220 | Black Eco Ultra Ink - 220ml |
| VJ-MSI3A-CY220 | Cyan Eco Ultra Ink - 220ml |
| VJ-MSI3A-MA220 | Magenta Eco Ultra Ink - 220ml |
| VJ-MSI3A-YE220 | Yellow Eco Ultra Ink - 220ml |





| | |
| --- | --- |
| Ink Product Code | Description |
| VJ-MSI3A-MA1000 | Magenta Eco Ultra Ink Bag - 1000ml |
| VJ-MSI3A-BK1000 | Black Eco Ultra Ink Bag - 1000ml |
| VJ-MSI3A-CY1000 | Cyan Eco Ultra Ink Bag - 1000ml |
| VJ-MSI3A-YE1000 | Yellow Eco Ultra Ink Bag - 1000ml |




Ink Consumption
8ml/sqm @720dpi with 67% coverage
UV Durability
3 years outdoor without lamination
Power Consumption
During Printing
830W
Power Supply
AC 100-120V/AC 200-240 - 60/50 Hz
Rec Working Environment
Temperature
20°C - 32°C with max 2°C/h
Humidity
40% to 60% (no condensation) with RH: max 5% RH/h
Dimensions/Weight
Width x Depth x Height
1190 x 437.5 x 365.6mm (desktop)
1190 x 590 x 1165.6mm (with optional stand)
Weight
31.8kg/40.5 kg
Filters
Application
Sign & Display
Printer Size
A1