HP Designjet T2530 eMFP Dual Roll 914mm 36" Print/Scan/Copy L2Y25A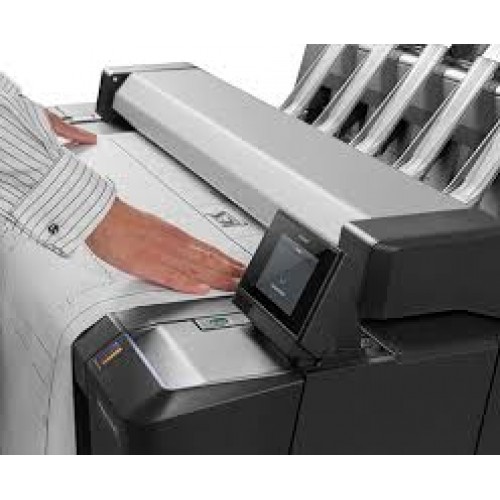 Integrated T2530 MFP drives productivity, security

Produce fast, professional-quality results—get D/A1-size prints in 21 seconds, using the HP DesignJet T2530 Multifunction Printer. With six Original HP inks, including grey and photo black, your work is rendered in precise, detailed colour.
Plus workgroups can save time with integrated print/scan/copy and a built-in output stacking tray.
PROFESSIONAL Your work in high quality, quickly with HP T2530 MFP
• Present your work in precise, detailed colour rendered with 6 Original HP inks including grey and photo black
•Make your architectural prints shine with professional, high-resolution graphics—opt for Adobe PostScript®
• Produce professional CAD and GIS drawings with consistent colour accuracy, crisp, sharp lines, up to 2400 dpi
• Produce fast, high-quality results—get A1/D-size prints in 21 seconds (120 A1/D pages per hour)
PRODUCTIVE Efficiencies help workgroups save time with HP T2530 MFP
• Convenient access to single control panel for print/scan/copy enables easy, do-it-yourself operation
• Keep workgroups on task—integrated 50-page output stacking tray conveniently delivers flat, collated prints
• Two rolls provide flexibility—easy front loading, automatic alignment; two media types/sizes, smart switching
• Print straight from your Apple® or AndroidTM1 smartphone/tablet wherever you are with HP Mobile Printing
MANAGEABLE Secure and easy-to manage for IT with HP T2530 MFP
• From upgrades to network integration, this single, integrated device requires less effort to manage
• Gain control—initiate front panel access rules, monitor media rolls and printer status, track print jobs
• Protect your data with IPSec, NTLMv2, SNMPv3, 802.1X, PIN printing, and more security options
• Enable unattended printing with two 300- ft (91.4-m) rolls compatible with the way you work
Print Line drawings5 21 sec/page on A1/D, 120 A1/D prints per hour
Print resolution Up to 2400 x 1200 optimized dpi
Margins (top x bottom x left x right)
Roll: 3 x 3 x 3 x 3 mm (0.12 x 0.12 x 0.12 x 0.12 in)
Sheet: 3 x 22 x 3 x 3 mm (0.12 x 0.87 x 0.12 x 0.12 in)
Technology HP Thermal Inkjet
Ink types Dye-based (C, G, M, pK, Y); pigment-based (mK)
Ink drop 6 pl (C, M, Y, G, pK); 9 pl (mK)
Printheads (C, G, M, mK, pK, Y)
Line accuracy +/- 0.1%6
Minimum line width 0.02 mm (0.0008 in) (HP-GL/2 addressable)
Guaranteed minimum
line width
0.07 mm (0.0028 in) (ISO/IEC 13660:2001(E))7
Media Handling Input: two automatic front-loading roll feeds, smart roll switching,
sheet feed
Output: integrated output stacking tray (from A4/A to AO/E,
with up to 50 A1/D-size capacity), media bin, automatic cutter
Scanner: straight-through scan paper path for sheet and
cardboard originals
Size Rolls: 279 to 914 mm (11 to 36 in)
Sheets: 210 x 279 to 914 x 1219 mm (8.3 x 11 to 36 x 48 in)
Standard sheets: A4, A3, A2, A1, A0 (A, B, C, D, E)
Thickness Up to 0.5 mm (19.7 mil)
Scan Scan speed Color: up to 6.35 cm/sec (2.5 in/sec)
Grayscale: up to 19.05 cm/sec (7.5 in/sec)
Scan/ copy resolution Up to 600 dpi
Maximum scan Size: 914 x 8000 mm (36 x 315 in) (JPEG)
914 x 5000 mm (36 x 197 in) (PDF)
610 x 15,000 mm (24 x 590.5 in) (TIFF)
Thickness Up to 0.8 mm (0.03 in)
Copy Reduction/
enlargement
25 to 400%
Maximum copies Up to 99 copies
Copier settings Copy quality, copy color, roll, content type, original paper type,
background removal, contrast, de-skew, blueprints support
Applications Line drawings, Renderings, Presentations, Maps, Orthophotos
Memory 128 GB (file processing),8
500 GB hard disk
Connectivity9 Interfaces (standard) Gigabit Ethernet (1000 Base-T)
Print languages
(standard)
Basic Multifunction Printer: HP-GL/2, HP-RTL, TIFF, JPEG, CALS G4,
HP-PCL3GUI, URF
PostScript® Multifunction Printer: Adobe PostScript 3, Adobe PDF
1.7 Extension Level 3, HP-GL/2, HP-RTL, TIFF, JPEG, CALS G4,
HP-PCL3GUI, URF
Printing paths Direct printing from USB flash drive, email printing, HP driver for
Windows, HP driver for MAC OS X, HP Print Service for Android,
Apple AirPrint driver
Drivers (included) HP-GL/2, HP-PCL3GUI drivers for Windows and Mac OS X;
PostScript drivers for Windows, Linux, and Mac OS X10
Dimensions
(w x d x h)
Printer 1399 x 916 x 1110 mm (55.1 x 36.1 x 43.7 in)
Shipping 1500 x 781 x 815 mm (59.1 x 30.8 x 33.5 in)
Weight Printer 112 kg (245 lb)
Shipping 145 kg (320 lb)
Acoustic Sound pressure 47 dB(A) (printing); 39 dB(A) (ready); <16 dB(A) (sleep))
Sound power 6.5 B(A) (printing); 5.8 B(A) (ready); <1.9 B(A) (sleep)
Power consumption
120 watts (printing/scanning); 1.3 watts sleep (5 watts with embedded Digital Front End)
Input voltage (auto ranging) 100 to 240 VAC (+/- 10%), 50/60 Hz (+/- 3 Hz),
Filters
Application
CAD Colour Scan/Copy/Print
Printer Size
A0
HP DesignJet T2530 Multifunction Printer, printhead, introductory ink cartridges,
stacking tray, printer stand and media bin, spindles, quick reference guide, setup poster,
start-up software, power cord
Standard delivery
Which takes the form of pallet delivery to a ground-floor entrance, using a tail-lift vehicle. As this is a one-man delivery service, assistance may be required for unloading. The printer will also not be left at your site in the absence of a signature, so you will need to be available at the time of delivery. The unpacking of the printer, together with installation and connection to the network, are all to be carried out by the customer.

Full delivery and installation
Whereby a checklist survey form is completed prior to the printer being delivered and installed. Delivery is performed by a two-man team to a ground-floor location, and you also won't need to worry about doing your own unpacking, installation, ink loading, testing, or connecting the printer to the network. Our team will also load the printer drivers onto one PC, and provide basic training. All packaging will be removed from the printer for you, including the pallet.

For installations on any floor other than the ground floor, and/or help with complex network requirements, please contact us to discuss your needs in greater detail. 01296 393799 - Email: sales@prizmagraphics.co.uk