HP Designjet T230 A1 24" Colour CAD & General Purpose Printer 5HB07A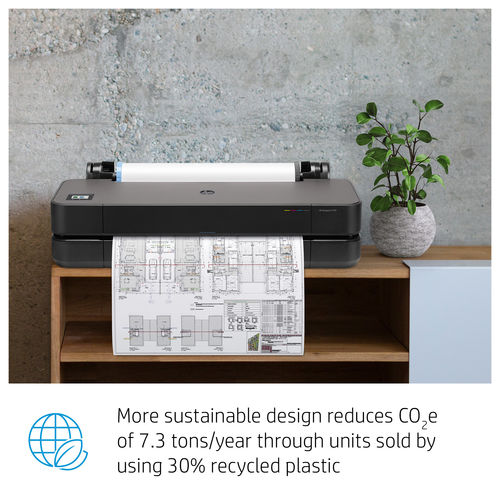 Ideal for Architects, engineering, and construction professionals working in home or small offices who need a compact, easy to use, affordable plotter in-house.

Paper rolls to fit the HP Designjet T230 A1 Printer
Including paper for, CAD, Presentations, Tracing, Posters, Sewing Patterns and Art Prints.


Extreme simplicity
If you must multitask like a pro, get a large-format plotter that does too. Enjoy easy printing with the HP Click software. Print multi-size A3/B or A1/D automatically, without manual intervention to switch the media source.
Fits your office and budget
Compact plotters that improve efficiency to meet space limitations and budgetary requirements. Not just the world's smallest plotter, it's also made from up to 30% recycled plastic2.
Fits the way you work
With the HP Smart App you can print virtually from anywhere with your smartphone or tablet. Stand by anything other than a printer.
Print speed 35 sec/page on A1, 68 A1 prints per hour
Print resolution Up to 2400 x 1200 optimized dpi
Technology HP Thermal Inkjet
Margins Roll: 5 x 5 x 5 x 5 mm
Sheet: 5 x 5 x 5 x 17 mm
Ink types Dye-based (C, M, Y); pigment-based (K)
Page Yield 20 ml of ink yields 101 A1/D pages, taking into account maintenance routines
Ink drop 5.5 pl (C, M, Y); 12 pl (K)
Printheads 1 (cyan, magenta, yellow, black)
Printhead nozzles 1376
Line accuracy ±0.1%
Minimum line width 0.02 mm
Max optical density 8 L* min/2.10 D
Media
Handling Sheet feed, roll feed, automatic horizontal cutter
Roll size 279 to 610 mm
Sheet size 210 x 279 to 610 x 1897 mm
Standard sheets A4, A3, A2, A1
Grammage 60 to 280 g/m²
Thickness Up to 0.3 mm
Applications Line drawings; Presentations; Renderings
Memory 512 MB
Hard disk None
Connectivity
Interfaces Gigabit Ethernet (1000Base-T), Hi-Speed USB 2.0, Wi-Fi 802.11
Print languages (standard) JPEG, URF
Drivers Raster driver for Windows and macOS
Dimensions (w x d x h)
Printer 1013 x 440 x 285 mm
Shipping 1155 x 575 x 405 mm
Weight
Printer 21.5 kg
Shipping 28 kg
What's in the box HP DesignJet T230 24-in Printer, printhead, introductory ink cartridges, spindle, quick reference guide, setup poster, power
cord
HP Software and solutions HP Click, HP Smart app, HP Print Preview for Windows, HP Easy Start, HP DesignJet Utility for Windows, HP Support
Assistant
Remote print enabled Yes
One-click multi-size printing Yes
Environmental ranges
Recycled plastic in printer 30%
Operating temperature 5 to 40ºC
Operating humidity 20 to 80% RH
Operating altitude Up to 3000 m
Storage temperature -25 to 55ºC
Acoustics
Sound pressure 42 dB(A) (operating), <16 dB(A) (idle)
Sound power 5.8 B(A) (operating), <3.4 B(A) (idle)
Power
Consumption <35 W (printing), <5.6 W (ready), <2.1 W (sleep), <0.2 W (standby)
Requirements Input voltage (auto ranging): 220-240 V (±10%), 50/60 Hz (±3 Hz), 1200 mA max
Certification
Safety EU (LVD, EN 60950-1 and EN 62368-1 compliant); Russia, Belarus, Khazakstan (EAC); Ukraine (UA)
Electromagnetic Compliant with Class B requirements EU (EMC/RED Directives)
Environmental ENERGY STAR; WEEE; EU RoHS; EAEU RoHS; REACH; ErP; EPEAT Gold
Warranty One-year limited hardware warranty
Filters
Application
CAD Printing
Hard Drive
No
Ink Compatibility
Dye
Max Paper/Media Weight
280gsm
Max Print Width
A1 24" 610mm
Memory
512mb
Print Speed
Line drawing A1 35 secs
Printer Options
WiFi
Printer Size
A1
Roll Feed
Yes
Sheet Feed
Yes
Wireless
Yes
HP DesignJet T230 24-in Printer
printhead
Introductory ink cartridges
spindle
quick reference guide
setup poster
Power cord
1 Roll 90gsm Plotter Paper 610mm x 45m